For athletes, it's especially important to pay attention to eating well, since we are talking about a basic fuel in terms of endurance, performance, as well as shape. The food you eat provide the nutrients for your body, muscles, organs, brain, as well as your soul. When the quality of the nutrients is right, you and your performance will reflect it, too.
06.12.2018
Whether your goal is to gain mass, lose weight, increase your performance or prepare for a competition, it matters what you eat during the day and what composition and quality of nutrients you take in.
It is also important to make your meals varied when you already know how much of each nutrient you need. If your diet is varied enough, you won't get bored with it, and even the natural sources of the nutrients will contain a more varied composition of, for example, vitamins and minerals.
Healthy fitness food recipes:
COTTAGE CHEESE OAT FLAKES WITH FRUITS
It's a simple morning meal that fills you up for the day, as well as a delicious and great source of nutrients. It contains complex carbohydrates, protein, fibres and healthy fats. When choosing the fruits, pay attention to their calorie contents.  If you want to lose weight, avoid banana and use berry fruits instead.
Ingredients:
–       oat flakes
–       fruits of your choice (apple, banana, blackberry, strawberry or anything you like)
–       cottage cheese (low-fat version during a diet)
–       a little water
Preparation:
Put the amount of oat flakes you want in a bowl and fill up with water until covered. If you like your oat flakes softer, let them soak for a while. Mix oat flakes with the cottage cheese and sweetener to taste, and add cut or whole fruits. If you like cinnamon, sprinkle some on top.
OAT-CRUSTED CHICKEN BREAST WITH VEGETABLES
It's a delicious and easy-to-prepare lunch or even dinner, containing medium and slow digesting carbohydrates which don't increase blood sugar levels and are, therefore, also recommended for those with diabetes.  Besides, chicken breast is a great source of protein. Choose your favourite vegetables which you can grill.
Ingredients:
–       fine oats
–       egg
–       chicken breast
–       vegetables of choice
Preparation:
Pre-heat oven and put baking paper on a baking tray. Season sliced and tenderised chicken breast. Dip in beaten egg wash in a bowl, dredge in oats spread on a plate, then put on baking paper and into the oven for 30 minutes. Sauté your favourite vegetables on a little oil in a wok or a pan. Stir vegetables occasionally and season to taste.
OATS AND PROTEIN CAKE
It's a very simple cake recipe which you just can't go wrong with. Have it for snack in the morning or in the afternoon, or even at the weekend with your friends. It contains all the important high-quality nutrients, with medium digesting carbs.
Ingredients:
–       oat flakes
–       protein powder in a flavour of choice
–       low-fat cottage cheese
–       yoghurt
–       optionally: nuts, grains, fruits
–       sweetener
–       a little milk or water
Preparation:
In a large bowl, mix all the ingredients you have chosen. It the mixture is too thick, make it thinner with some water or milk, maybe yoghurt. Pour mixture in a baking dish or a casserole dish lined with baking paper, then put in a pre-heated oven for 30-40 minutes. Occasionally make sure that top is not burnt. When it's turning golden brown, it's OK. Since it has no eggs in it, you can as well eat it raw or half-baked – you don't need to worry that it's not baked properly.
EGG MUFFINS
It's a morning meal you can prepare in about 20 minutes, but without carbs, you can even have it for dinner during a diet. It's easy to prepare; all you need is a muffin mould.
Ingredients:
–       eggs
–       vegetables (any vegetable that can be baked, even onions or mushrooms)
–       oat flakes (to taste)
–       anything you would put in scrambled eggs
–       herbs
Preparation:
In a bowl, beat eggs, season, then add everything you want in your muffin. I usually use broccoli, zucchini, onion and mushrooms. If you have it for breakfast, you can also add oat flakes. Pour mixture in the muffin moulds and put in a pre-heated oven for 15 minutes.
GREEK CHICKEN BREAST SALAD WRAP
This delicious and low-calorie dish takes only about 10 minutes to prepare. You may as well have it for dinner. Although it contains a lot of ingredients, it's important that tastes can really work together and mingle this way. J
Ingredients:
–       chicken breast
–       olive oil
–       salt, pepper
–       dried oregano
–       chopped cucumber
–       chopped tomato
–       red onion
–       olives
–       feta cheese
–       parsley
–       large lettuce leaves for the wrap
Preparation:
Pre-heat grill or oven grill. Brush olive oil on chicken breast, and sprinkle oregano, salt and pepper on top to taste. Grill chicken breasts for about 4-5 minutes on both sides then cut them into slices.
In a large bowl, mix cucumber, tomato, red onion, olives, feta cheese and parsley. Add chicken breast.
Wash lettuce leave and wrap it around a big spoonful of the mixture.
TURKEY-VEGGIE MEATBALLS
It's a great low-calorie lunch or snack. The balls contain a lot of fibres and protein, and you can easily take them with you anywhere as little bites. First, you'll need a baking tray, lined with baking paper, and the oven on; then a large bowl to mix the ingredients.
Ingredients: (quantities are optional and can be varied to taste)
minced turkey (500g)
oat flakes (200 g)
eggs (3 whole)
capia pepper (finely chopped)

spinach (I used deep-frozen chopped spinach without any seasoning, but plain spinach leaves are OK, too)
you can add any vegetable you like
seasoning (ideally mixed, garlic, salty)
Preparation:
Take a large bowl, put in and mix ingredients. Roll balls with your hands and place them on the baking paper on a baking tray. Put it in the oven and sometimes check balls. When the bottoms are turning brown, turn them over. Bake for about 30 minutes.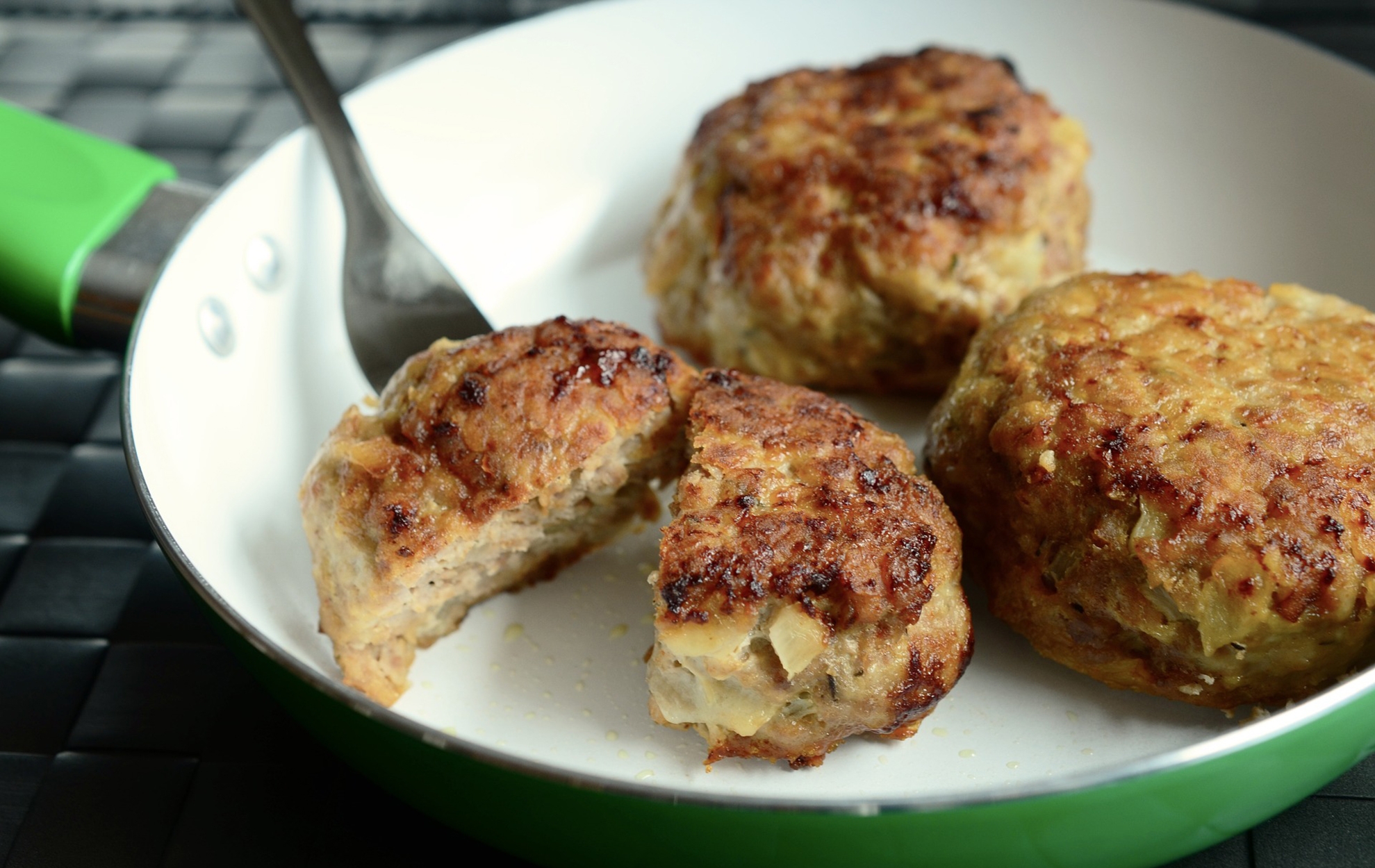 HONEY AND LIME SALMON
It's a perfect recipe even for the evening, but also a great choice for lunch. It's quick to prepare – not more than 20 minutes – and you have a plate of delicious lunch, rich in protein and contaning healty fatty acids, too.
Ingredients:
–       2 slices of salmon fillet
–       1 tbsp olive oil
–       1 lime
–       1 tbsp honey
–       salt and pepper
Preparation:
–       Heat 1 tbsp olive oil in a pan. Season salmon slices with salt and pepper.
–       Put salmon slices in a pan with skin side up and fry both sides for about 4 minutes.
–       In a cup, mix 2 tbsp olive oil, honey, lime juice, salt and pepper.
–       Brush mixture on salmon slices and cook for another minute.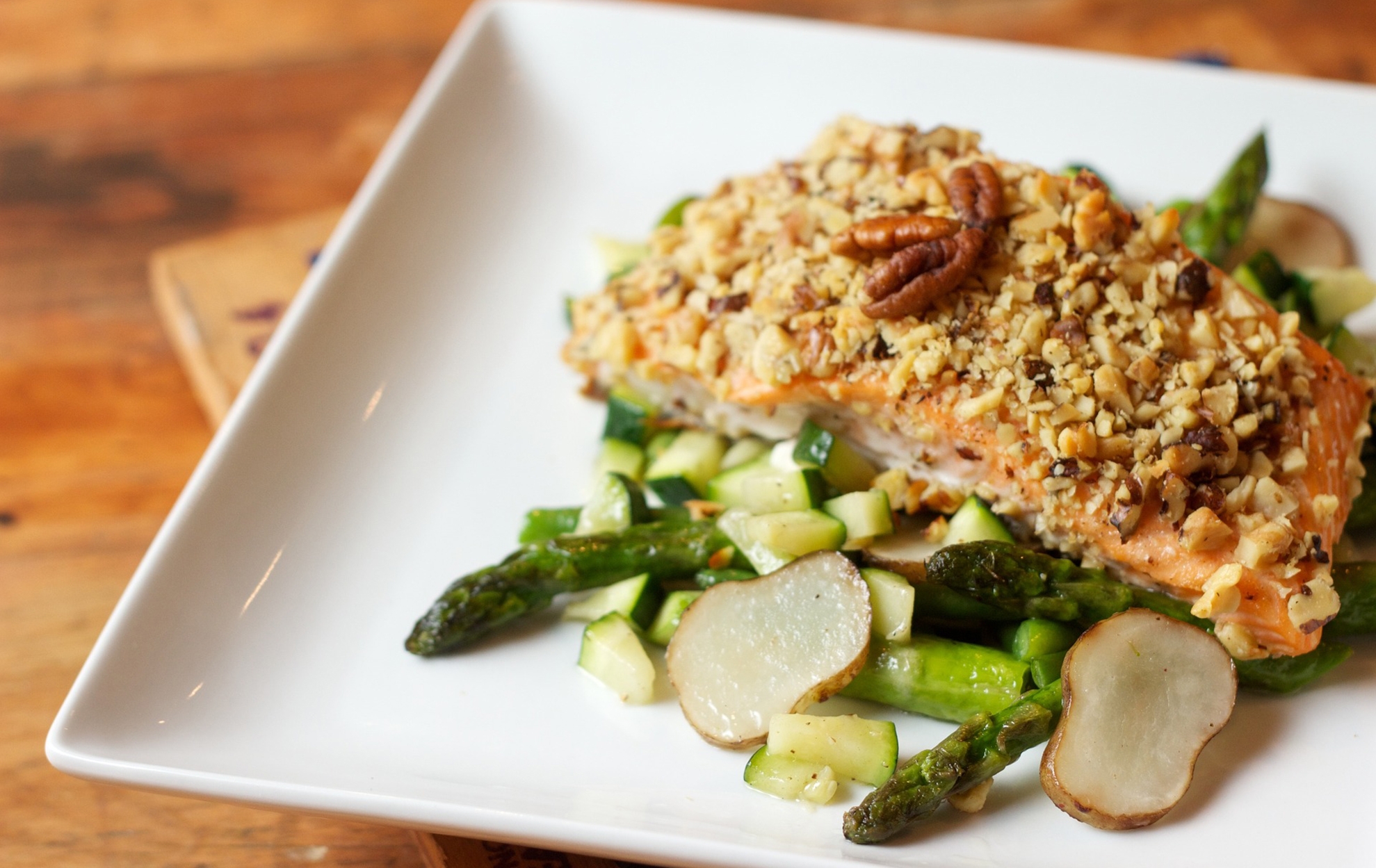 HONEY SESAME CHICKEN
It's basically an Asian dish which is very healthy, but, because of the honey, less recommended for those on a diet. It's a great choice for either lunch or dinner, as it contains a lot of useful nutrients.
Ingredients:
–       chicken breast cut to cubes
–       1 tbsp and 1 tsp oil
–       salt and pepper to taste
–       green beans
–       1 tsp mashed garlic
–       ¼ cup honey
–       a little water
–       ¼ cup soy sauce
–       2 tsp sesame oil
–       2 tsp corn starch
–       2 tsp sesame seeds
Preparation:
–       Heat 1 tbsp oil in a pan. Sauté green beans for 2-3 minutes.
–       Season chicken breast with salt and pepper. Remove green beans from pan and sauté chicken breast instead with another tbsp olive oil. After 3-4 minutes, put green beans back and cook for another 2 minutes.
–       In a bowl, mix honey, sesame oil, garlic and soy sauce, and in another bowl mix corn starch with a tbsp cold water.
–       Pour soy sauce mixture over chicken breast and green beans, cook for half a minute, then add corn starch and cook for another minute until the sauce begins to thicken.
–       Sprinkle top with sesame seeds and serve.
COTTAGE CHEESE AND FRUIT FILLED CREPES
Crepes are also easy to prepare in a healthy version, so, due to its slower absorption, it won't cause such blood sugar fluctuations as the conventional version, and you'll feel full for much longer. Also, cottage cheese will excellently satisfy you protein needs, and fruits will give a nice taste to your crepes.
Ingredients:
–       50 g buckwheat flour
–       50g wholemeal flour
–       2 eggs, divided
–       150 ml low-fat milk
–       150 g low-fat cottage cheese
–       1 cup low-fat plain yoghurt
–       fruites of choice
Preparation:
Put the two kinds of flour in a large bowl and add the yolks. Slowly add the milk and stir until you get a smooth and thin batter.
Beat eggs whites to soft peak and add to the flour, egg and milk mixture.
Heat a crepe pan with some coconut fat and scoop a ladleful of batter in it. Spread evenly and fry both sides.
Meanwhile, mix cottage cheese with yoghurt and fruits in a cup. When the crepe is ready, put some of the cottage cheese and fruit mixture on it.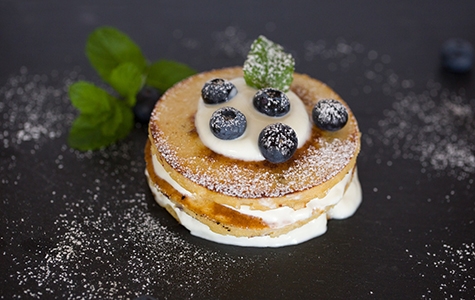 BANANA AND STRAWBERRY GREEN SMOOTHIE
Start your mornings dynamically, with plenty of fruit. It's not recommended during a diet, but during a mass gaining period, it's a great and healthy breakfast. It's a quick and easy-to-prepare, delicious, thick drink.
Ingredients:
–       1 handful of spinach
–       1 handful of Savoy cabbage
–       1 cup water
–       1 banana
–       5 deep-frozen strawberries
Preparation:
Put the greens and the water in a blender. Puree at low or medium speed until the greens reach a fully liquid consistency. It will take about 1 minute. First it might seem that the green leaves won't really mix, but over time, they will.
Add the fruits and continue mixing until you get a smooth drink. If too thick, add some more water.